Should I use a website builder like Wix, Squarespace, Shopify or Godaddy?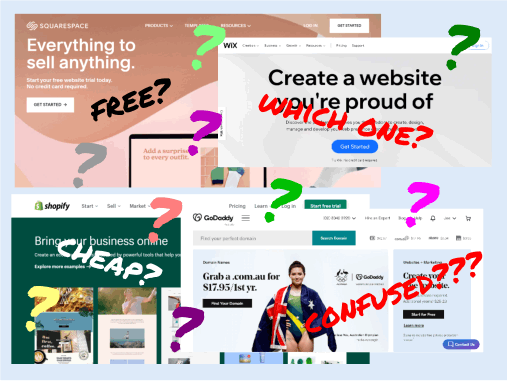 It's a great question. The real answer is…it depends.
If you're just launching and you want to get up and running really quickly, it may be the solution…for now. There's an old saying, "there's no free lunch". It's cheap or may appear cheap but there's a reason for that and usually you discover the shortcomings a little later down the track.
The great landing page, the offers, the free trials, etc are there to get you in. It works! Then what? All I can give you are my observations and experiences, so that is what you'll get. You may disagree but that's ok.
Firstly, you don't own your site. You might say…so what. Wait till something goes wrong or you're not happy. You can't move it. You've invested all this time and money into it and you're stuck!
Secondly, they're not that good for SEO. Sure, there have been improvements but usually that's a fact.
Thirdly, you're on a subscription model and you pay every month for every thing and every add on you find you that need. Within a short period of time, your cheap $30/mth website ends up costing you $300/mth! Don't forget the fees and commissions.
Fourthly, it still costs time and money to customise. I subscribe to a lead generation company and get to see what sort of requests come through. I am stunned at the amount of enquiries that come through for help with changes to these sites. I don't take these sort of jobs on, but there's a market to fix these platforms. I would say of the people who want to make changes to their websites…60% are on these platforms, 20% wordpress, 20% regular html. That tells me something.
Another observation I've made is that when I've looked at clothing sites, they're nearly all on Shopify. Yes, you can tell after a while. They tend to all look the same which is not a good thing. They also rarely have any sort of branding or information, simply just stuff, again not a good thing.
E-commerce sites consume time and/or money. Sure, if you need one, you need one. Be prepared to do a lot of work to set it up and keep it up to date or be prepared to pay someone. There are other options to Shopify. Each supplier will have their own good and bad points and their own integrations. I think ECWID is a good alternative and WooCommerce is cool for WordPress but do your own research. There are many others.
Fact is, cheap sites look cheap and unprofessional. They're a great place to begin but don't stay there. It affects your image and branding. As you grow and get more established, you needs may change. It actually pays to begin with a solid foundation on which you can build later. My preferred solution is a custom site fit for your purpose like we do here. It's really not that expensive to have a custom designed website. Why not get in touch and discuss some options?