Are Bark leads any good?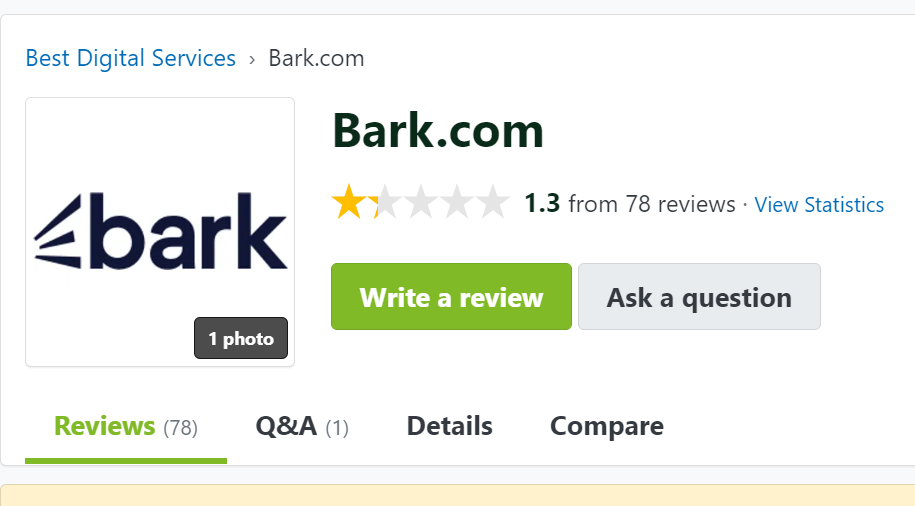 Is Bark a scam?
On the surface, it may seem like it, but I don't think so. Let's just say that the whole process is heavily weighted in favour of Bark.
I thought I'd get some feedback from some experts…other freelancers and agencies who've used Bark before. Here goes….Firstly, here's a review from an Australian review site. Hmm…ONE star??!!!?? To be fair there were some ok reviews in there but, it doesn't average out very well.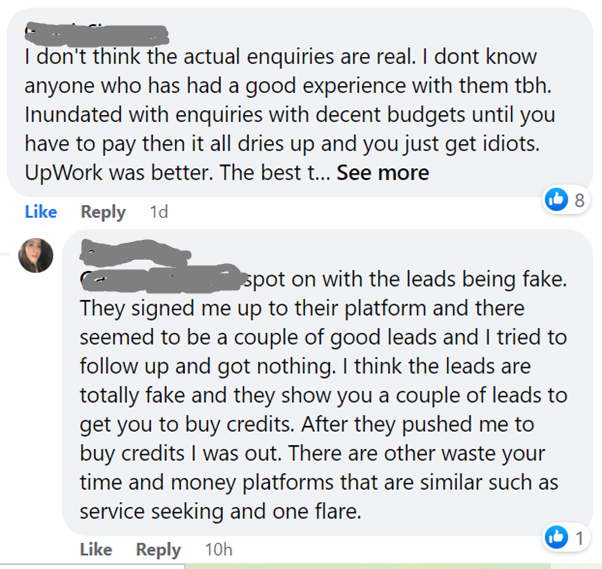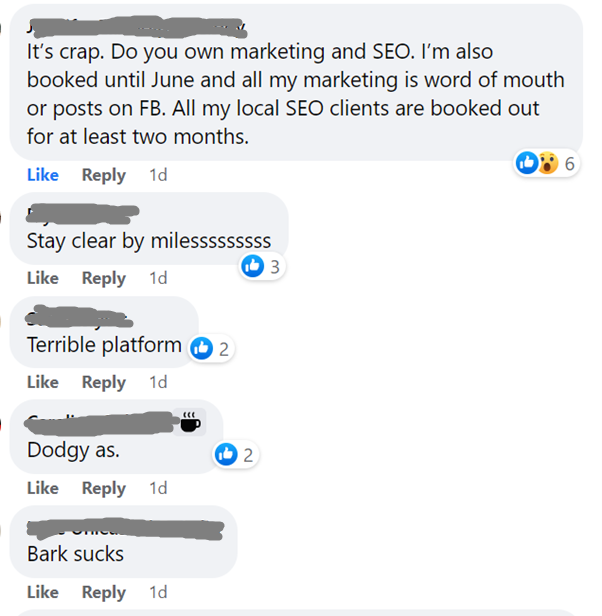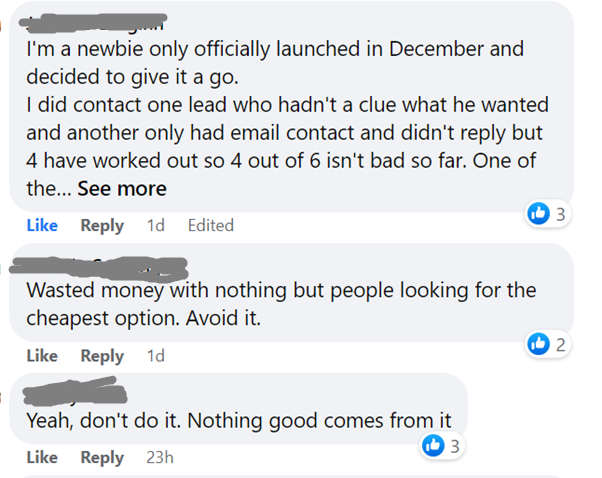 Now, these are not some BS review, they're from other real freelancers and it's not looking good so far. Let's see what happens…
All I can do is share my experience with Bark and how that worked out. Bark may work for some industries and I'm sure there are success stories but I think for those in the creative fields, it's not that promising. It's not like you're mowing lawns or cleaning rooms. Quoting websites and other design projects are a bit more complex.
Had to laugh when I saw that! It's a good ad anyway.
Firstly, way before I signed up, I tried to find out about their cost structure. No luck. The best I got was you had to buy credits. I even emailed them and got a lame reply about how good they were and you got credits. No real information. Hmm….hiding the facts, scammer?
Anyway, I let that go for a while and signed up at a later date out of curiosity. I bought a credit pack at a cost of $652. What does that give you? Supposedly, enough for about ten leads. I worked out the cost of each lead is somewhere between $50-$80, most sitting around $60-$70 depending on the credits which they work out. Not cheap!
They seem to have a very good infrastructure and backend. The dashboard is great and easy to use. That was positive. They provide a lot of tips to get you going. I was really happy with that side of it. Consequently, I invested a lot of time setting up my profile and the backend. I wanted success and you have to invest.
They use Google Adwords to get their leads. The ads are well placed and pretty good. The potential client fills out a form and submits the enquiry to Bark. They've improved their form and now have good contact details, some info, and a budget. Then a vendor then gets in touch. On the surface, it sounds great a win/win for all.
But….
Here's the problem. You don't just get a lead and it's yours. The leads come through and up to five people can pick up the same lead! This is a total lottery. I don't mind paying but give me a break. How is this going to work successfully? It's purely greed and a lose/lose for all parties. They make…say $400 out of a $20 lead and you may not make anything. You might get lucky. The customer then gets bombarded with multiple vendors. And who knows where else they've enquired.
I don't know about you, but maybe two or three quotes in the norm anywhere. Anymore and it becomes a circus and it's all overwhelming and confusing. And anyway, we're not in the quoting business. We're in the design business.
Every time you click and accept a lead for a "maybe"….cachink!….$70 out of your pocket for a phone call. You can't guarantee the quality of the lead. Many don't even have the courtesy to respond or reply. Even if they do, and they put that "they would hire now" in their form, when you talk to them, it's a different story.
I've tried different combinations and am trying to filter out the time wasters but it's not easy or guaranteed. It's not like I'm a novice. I've been in sales and have worked with leads before, both in the car industry and in the painting/building industry. With cars, the lead is on a car. That's it. With construction, painting, etc. it's your lead for a particular job. Not here. All this does is encourage priced based transactions and that is a race to the bottom! It's a lose/lose for all except for Bark.
The other interesting thing is when the leads come through, the vendors have now woken up and nobody is taking up the "dead dog" leads…those under $500 and "only researching". Plenty of room to play on this field.
The other extreme is when "good leads" come through, they already have four or five vendors on it. Huh??? How is that even possible? Is there some sort secret automatic bidding system like on Ebay? If the lead has just come though and I've opened it immediately, how can it have that many people already on it? Why even send the lead through? I've had dozens of these, and now I know why people think Bark is a scam.
Here's a fresh lead as it came in as an example. Five out of five people have responded and it's a brand new lead. Beyond belief!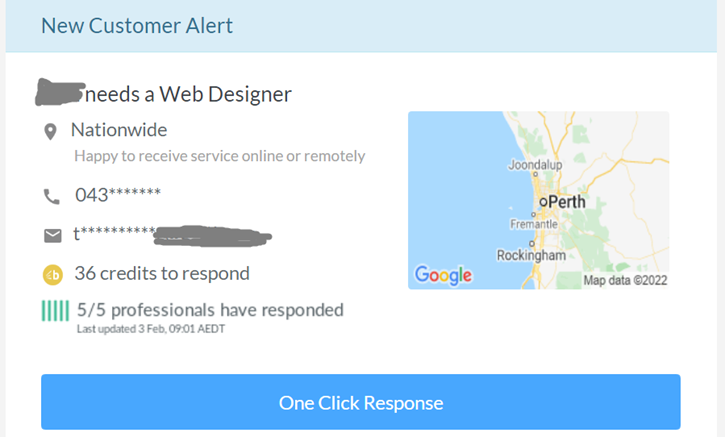 All the rest are somewhere in the middle and that's where most vendors have to play. By the way, to get that lead, (if you could), would cost you nearly $100 (for a phone call)!
Even some customers think it's a scam!
Ok…here we go. A lead has just come in as we speak, for a web design project. I've opened up the email within two seconds and guess what? It already had three people allocated to it before I even read it! Seriously??!!!?? Oh sorry…its now thirty seconds later, it's now got four vendors already allocated to it. This is happening live as I'm writing. I wish I videod it!
So, what happened with all the leads, you ask?
Well…I work in a pretty narrow market. I just do regular html sites and stay away from, fixing Wix, Shopify, Squarespace and Godaddy sites. There are heaps of leads for these. I also don't do WordPress. Yeah…weird but my choice. So that limits it to about 40% of leads.
In the end I picked up ten leads. Three were in the $500-$2000 range and the others were in the up to $500 range. Number of sales? Zero. That's the bad news. The good news is that they have a "get hired guarantee". I had to wait three days and received all of my credits back. This is a once only offer, by the way but good to have. I might actually get my money back from the casino.
What did I learn?
Don't work in the below $500 section. Don't pick up leads from WA if you're on the east coast. It's a 2.5 hour time zone difference, so it gets a bit tricky. It's like dealing with someone in another country. Not sure about weekends yet. But it seems that people have plenty of time on their hands and do a lot of surfing, hence enquiries. But then they don't have the courtesy or don't care to reply. After all, weekends are for kid's sport and partying or chilling. Why should they bother to reply to you.
Ok…now to phase two.
We're onto a fresh set of leads after my refund. It's still much the same story. I'm staying away from the "less than $500" leads. Half the leads don't seem real. The descriptions and names seem made up. Many don't have any clicks on them and that doesn't surprise me. I have been able to speak to a few people but no money yet! Those $70 phone calls are a serious time waster and mentally draining.
Again, no result. Not only is the quality of the lead poor, it seems that the type of people (if they're real) who place these enquiries are not the same as those that would call you direct. They place the enquiry but rarely even have the basic courtesy to respond or reply to any communication. I've never seen anything like it.
I know a handful of people do make some money from Bark, but they have it all automated with integrations and they just buy the expensive leads. It's still a casino, but I guess, if you get one $10,000 job out of a dozen, then it pays.
Would I do it again? Definitely not. If you've got an agency and have a cast of thousands working for you…then maybe you can afford to play in the casino.
I would love to give Bark a five star review but anything more than one star would make my review as dodgy as a Bark lead.
Experiment over! I'll go and play with Google ads.